We are pleased to announce that Matthew Passmore will be presenting the closing keynote address at the World Bike Forum 4 in Medellín, Columbia. The conference runs from February 26th through March 1st. Matthew's talk, on the subject of "The Bicycle as Urban Artform" will be followed by a moderated panel with Assaf Biderman (co-inventor of the Copenhagen Wheel) and Belen Bike, an urban artist.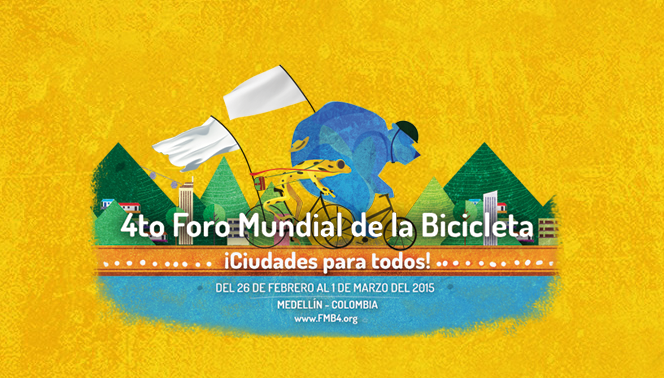 The Forum brings together a stunning collection of advocates, artists, scholars and practitioners from around the globe to discuss contemporary issues related to the social impact and cultural importance of the bicycle.
The roster includes such estimable figures as Janette Sadik-Kahn (Bloomberg Associates, former Transportation Commissioner of NYC), Enrique Peñalosa (former Mayor of Bogotá) and Lotte Bech (Cycling Embassy of Denmark).
From the organizers:
The theme for the 2015 edition of the World Bike Forum is "Ciudades para Todos – Cities for All", relating to ideas geared for humans and living spaces. The forum will discuss how cities can be organized to the benefit of all it's citizens. After all, it is not just an event for cyclists, but for the entire population.
While societies in the entire world are urbanizing they face environmental as well as social challenges. At the same time the bicycle is gaining momentum as a serious transportation option and catalyst for creating better living spaces for all humans. In this process, cycling advocacy and citizen engagement play a crucial role in employing the bicycle as a vehicle for social change and urban equity. It is time for the bicycle to take a leading role in shaping an equitable and sustainable city for all!
 The forum will be celebrating and furthering the work of various stakeholders (individuals, groups, NGOs, businesses, or government agencies) working together to bring about positive change on all levels: individual, local, regional, national and global. Collectively, we will discuss, think and plan solutions so that bicycles, pedestrians and motorists can coexist in harmony. And the more thinking heads, the better – and merrier!
If you'd like to follow the Forum on social media, the hashtag is #FMB4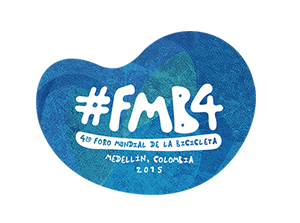 Foro Mundial de la Bicicleta (World Bike Forum) from Foro Mundial de la Bicicleta on Vimeo.