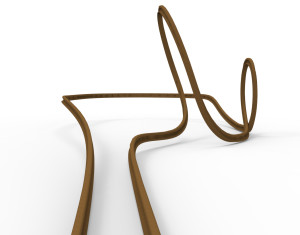 March 2017
We are pleased to unveil the designs for Tide/Untied, a new monumental sculpture that will stand at the redesigned entrance to San Francisco's venerable Fort Mason, the largest urban national park in the United States.
Commissioned by the Fort Mason Center for Arts & Culture, Tide/Untied is both whimsical and deeply imbedded in the cultural and infrastructural history of Fort Mason, which was once known as the Point of Embarkation for the US Army.
Constructed of railroad track that seems to connect to the terminus of the historic track inside the Fort, the sculpture rail lifts dramatically out of the ground, creating places to sit, loops to walk through, and a playful definition to the entrance to the Fort. Though abstract in form, Tide/Untied looks vaguely familiar; perhaps the form references a nautical knot, frozen somewhere in the process of being tied, or perhaps it is a gesture toward the rolling tides that have carved the contours of the San Francisco Bay for millennia. Whatever the form might spark in the imagination of the viewer, the material of the sculpture is deeply connected to the history of Fort Mason and the San Francisco Waterfront.
The piece is currently being fabricated by Art & Design Works, LLC, the masterful makers who built our Intersection piece in Portland, Oregon.
We are currently planning to install the piece during the summer of 2017. Stay tuned!