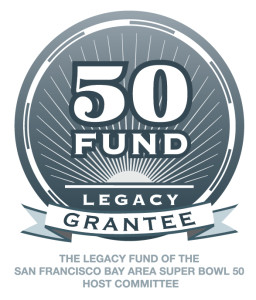 We are excited to announce that we are a PLAY 60, Play On grant winner! PLAY 60, Play On, an initiative presented by 50 Fund and the NFL Foundation, is transforming everyday spaces into places for play. The 50 Fund and the NFL Foundation have awarded $750,000 to 21 Bay Area cities, nonprofit organizations, businesses and individuals.
Our contribution is the Gemscape – a new, improved outdoor prototype version of the Kaleidoscape project we created for the Berkeley Art Museum a few years back.
Like Kaleidoscape, the Gemscape is a series of large, colorful modules that can be stacked, climbed upon and otherwise re-arranged by the users to create an everychanging landscape for play and interaction. Because the scale of the larger modules requires more than one child to move, users will need to collaborate with other kids in order to achieve the arrangement they desire.
To execute the Gemscape, we are thrilled to be working with our friends at the Flux Foundation, who are our fiscal sponsor as well as extraordinary public artists in their own right.
The Gemscape will debut at a free, all-day public event on the Mandela Parkway near 14th Street, on Saturday January 23, 2016. Stay tuned for details!