We are currently in full fabrication mode on a permanent public artwork – Handsignals – that will mark the entrance to McCoppin Hub, a new public plaza in a small leftover space on Valencia Street near Market in San Francisco.
Handsignals refers to the formal qualities of the numerous theater signs prevalent in the Mission District, and repurposes that vocabulary to "advertise" a new public space. Made of familiar pedestrian traffic signals and lettered brightly to mark McCoppin Hub as a new public space, Handsignals plays at the edge between art and advertising.
The north-facing side of the piece spells "McCoppin" in bright yellow cast aluminum lettering. On the south-facing side, Handsignals repositions the meaning of the common pedestrian traffic signal by replacing the familiar "red hand" and "walking figure" with custom symbols designed to represent themes deeply imbedded in Mission District culture.  The piece playfully explores the relationship between a community and its emblems, identity and its abstractions, the sign and its signifier. The modules will blink on and off in a slow, irregular pattern, creating new combinations of symbols in a never-ending sequence.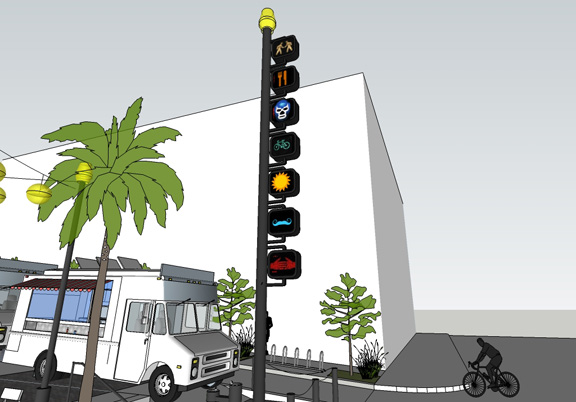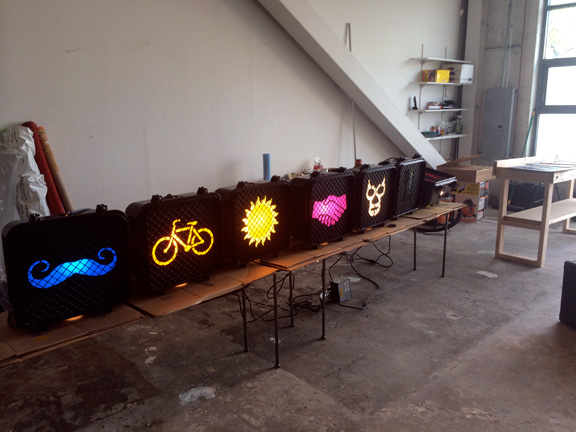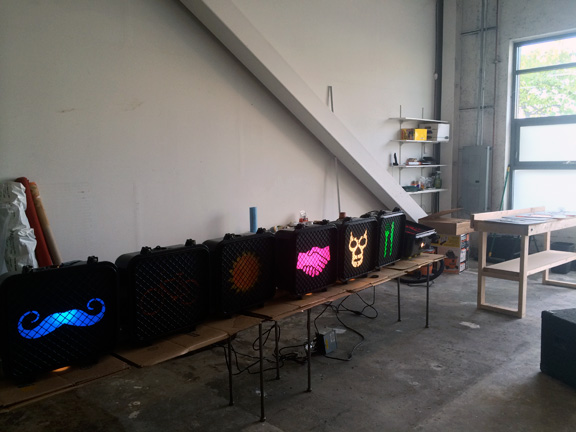 Handsignals began as a Rebar project, but is now held in the steady hands of MoreLab. Installation at McCoppin Hub is currently scheduled for mid-May 2014. Come have a look!